---
DISCOGRAPHIE
---
En 1992, le groupe rock Manic Street Preachers l'embauche pour chanter une chanson avec eux sur leur album "Génération Terrorists". Le single Little Baby Nothing sera la première incursion de Traci dans la chanson.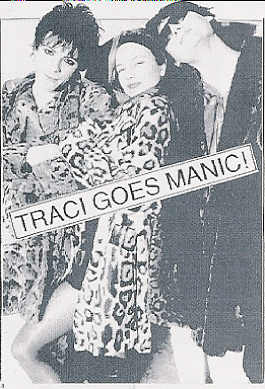 La carrière musicale de Traci continuera avec l'enregistrement du titre Love Never Dies
pour la Bande-Originale du film Simetierre 2.
Mais Traci préfère s'éclater sur la techno, qu'elle découvre dans les clubs londoniens et veut que son album corresponde à ses goûts. Elle signe chez Radioactive Records et sort son premier single Control, un titre techno endiablé, qui fait un méga carton dans les boites. Elle se retrouve numéro 1 des charts !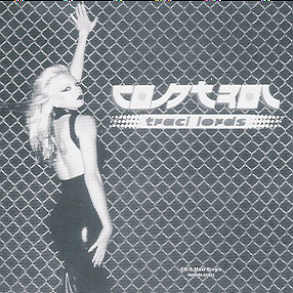 L'album va suivre : 1000 Fires sort en 1995.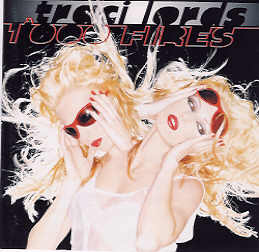 Parmi les morceaux, qui ne relève pas tous du domaine de la techno, on peut retenir Fallen Angel que Traci chantera en live dans une scène du film "Programmé pour tuer" avec Denzel Washington. Un autre morceau auquel Traci tient beaucoup est le titre Father's Field, un titre autobiographique dans lequel Traci parle du viol que lui a fait subir son père alors qu'elle n'était qu'une enfant.
Traci fera aussi les choeurs sur une chanson des Ramones en 94, Somebody to love, tiré de l'album "Acid Eaters".
Mais les groupes n'ont pas attendu que Traci chante pour parler d'elle dans leurs chansons. On peut trouver de nombreux groupes dont Traci sert de référence :
- I love you Traci (chanson de Ronnie Mack)
- Traci Lords (chanson de Los Imposibles)
- Sportfucking with Traci Lords (chanson de Whitehouse)
- Come back Traci (chanson de Sloppy Seconds)
- Those Young Girls (chanson de Chemical People qui inclue des sons d'une orgie avec Traci)
- Kool Thing (chanson de Sonic Youth avec une photo de Traci sur la pochette)
- Los Traci (chanson de Hector Proctor)
On peut également trouver un très beau tee-shirt du groupe Sonic Youth avec une belle photo de Traci sur le devant.
---
LES PAROLES
CONTROL (1000 FIRES)
You said you're lonely you said you're blue you lost your lover let me console you if you surrender you'll feel no pain cause l'm the master at this game come with me to the other side beneath the tide I will control your soul
FALLEN ANGEL (1000 FIRES)
You say you wake up in the morning feeling used like a fallen angel tired and bruised it's got you feeling so insane more dead than alive love's got you stained on the inside you're drowning in excess thoughts of suicide like a mirror you can't hide fallen angel fallen angel
GOOD N' EVIL (1000 FIRES)
I'm the trigger a piece of lead I'm the air between the bullet and your head I'm the heart the soul of man I'm the skin between your hands gods hell Mirrored himself and started to yell Good-n-evil turn it loose
FLY (1000 FIRES)
I'm climbing to the top of the tallest darkest tree i need to know where heaven stops what lies beyond the dream i am hearing the cries of angels they are coming after me i am tripping yeah i am falling and nothing's as it seems i hear your voice in the distance you're floating through my mind i am scared yeah really scared but still i close my eyes and then i'm watching a thousand fires burning in the rain and i am tasting my own desires as they pale and fade away give to me of your love and baby watch me fly
DISTANT LAND (1000 FIRES)
I wake up and i don't know where i am no time left to waste there's little light in a distant land try to fathom but i don't know what i feel searching my face i ask myself is this for real
OUTLAW LOVER (1000 FIRES)
He came from the desert to this one horse town turned my whole life upside down branded me his little flower smelled of whiskey and his kiss was sour bang bang he's an outlaw lover cause everyone knows all over town let's settle the score come sun down
I WANT YOU (1000 FIRES)
It's four in the morning and i'm praying for rain A boom crash crazy running through my veins With your thin white lips and your hair so red I need to climb inside your pretty head
SAY SOMETHING (1000 FIRES)
I can see it all before me here it comes now it means nothing just say something just say something how did you know i am only here among us how did you know i am only here among us how did you know i am only here among us
FATHER'S FIELD (1000 FIRES)
I remember that day i was excited no school. I'd been raking my father's field. wearing this stupid little dress rockin' out. raking it up. sort of sweating. feeling good. in the grass. making big angels. i was feeling kind of itchy. kinda liking the way it felt. must have fallen asleep. don't know what woke me up. all i can remember huge eyes. staring over me. on top of me. older boy, out of my league, no cheerleader no lipstick queen feel his eyelashes on my face tickling me maybe that is what woke me up the sun was so warm and he was so hot i didn't know what was but it felt kinda good his finger's thru my hair raking it up never really had anyone touch me like that before there was something wrong but i kinda liked it. it was sort of like wow. like amazing this sweet voice tickling me. i felt myself sort of blushing i tried to get up and he started to laugh he's sort of pulling me down. pinning me to the ground. he's not playing a game. hear this screaming. i started to hear my clothes rip. i got scared, really scared. i was so embarrassed. i became silent. this is wrong. it's all my fault. it's all my fault. it's all my fault. his hands over my mouth. i didn't say anything. i didn't feel anything. he was thru with me. i didn't tell anyone. didn't tell anyone.
OKEY DOKEY (1000 FIRES)
Know what you mean... okey dokey doggy daddy... yummy yummy sugar mummy
LITTLE BABY NOTHING (Album des Manic Street Preachers)
No one likes looking at you
Your lack of ego offends male mentality
They need your innocence
To steal vacant love and to destroy
Your beauty and virginity used like toys
My mind is dead, everybody loves me
Wants a slice of me
Hopelessly passive and compatible
Need to belong, on the roads are scarey 50 hold me in your arms
I wanna be your only possession
Used, used, used by men
All they leave behind is money
Paper made out of broken twisted trees
Your pretty face offends
Because it's something real that I can't touch
Eyes, skin, bone, contour, language as a flower
No god reached me, faded films and loving books
Black and white TV
All the world does not exist for me
And if l'm starving, you can feed me lollipops
Your diet will crush me
My life just an old man's memory
Little baby nothing
Loveless slavery, lips kissing empty
Dress your life in loathing
Breaking your mind with Barbie Doll futility
Little baby nothing
Sexually free, made-up to breakup
Assassinated beauty
Moths broken up, quenched at last
The vermin allowed a thought to pass them by
You are pure, you are snow
We are the useless sluts that they mould
Rock'n'roll is our epiphany
Culture, alienation, boredom and despair